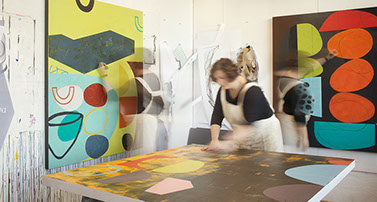 Matteo Hermani and Michela Sorrentino, both of European descent, have been creating and providing strong, unique and professional design with a european flare since 1997. They started off designing in the trendy Vancouver Gastown neighbourhood way before it was even trendy to be there. Since the year 2000, they have made Salt Spring Island their base camp situated in the Southern Gulf Islands.
As well as working in graphic design, Michela is also a painter. She exhibits her work in a few galleries dappled around the globe. You can visit her web site to see more of her work. michelasorrentino.com
Specializing in design and illustration for print and electronic media, hermani + sorrentino provide a comprehensive design studio for our clients. From concept realization, to designing, to making the images dance off a page or computer screen, we take pride in each and every detail. Our guarantee to you is simple: elegant, innovative, graphic strategies that ensure you deliver your message and stand out in the marketplace.
Client List
Barbara-Jo-s Books to Cooks
BC Agriculture in the Classroom Foundation (BCAITC)
BC Cranberry Marketing Commission
BC Dairy Foundation
Celine Interiors
Country Grocer, Salt Spring
Counterpunch, Toronto
Destination Planners Inc.
Douglas & McIntyre
Fairmont Waterfront
Fairmont Vancouver Airport Hotel
Foxglove Farm & Garden
Green Raven Centre, Salt Spring
Heart & Stroke Foundation of BC & Yukon
Jan Smith Enamel + Metal Jewellery
Longview Solutions
MacGillivray & Associates
Ministry of Agriculture
Nick Bantock
Pacific Destinations Services
Pod Contemporary
Portfolio West
Raincoast Books
Rare Indigo Destination Management
Red Herring Guest Cottage
Red Wheel Weiser, Boston, MA
Salt Spring Island Ice Cream Co
Salt Spring Island Chamber of Commerce
Salt Spring Public Library
Sea Lion Point, Sonora Island, BC
Sorensen Fine Homes
Summerside, Salt Spring
The Sutton Place Hotel
Tourism BC
Tourism New Brunswick
Tourism Whistler
Tricycle Press/Random House Kids
Tu'an Publishing
Tuttle Publishing, Boston, MA
Washington State Dairy Council